Kouta Räsänen

Chemnitz, Germany. I was born in Finland and have been a nature lover from childhood. In summer I often hiked with my family in the wilderness areas of northern Finland. However, I have always been fascinated by forest, and those areas are mainly tundra. Unfortunately, the remaining virgin forests in Europe are both very few and small, which has driven me to search for natural forests around the world, including North America.



In the photo: Location in Yakushima, Japan, with a Trochodendron aralioides tree, which has germinated probably on a large Cryptomeria japonica stump.

Heidi Ricci

Heidi Ricci has an MS degree in Resource Management and Administration and a BS in Biology.

Shei is a Senior Environmental Policy Specialist at MassAudubon. http://www.massaudubon.org/

Mass Audubon works to protect the nature of Massachusetts for people and wildlife. Together with more than 100,000 members, we care for 34,000 acres of conservation land, provide educational programs for 200,000 children and adults annually, and advocate for sound environmental policies at local, state, and federal levels. Heidi is Mass Audubon's MEPA/NEPA review coordinator and has reviewed and commented on hundreds of projects through MEPA/NEPA and various regulatory permitting programs.

Heidi Ricci is also the Moderator, River Advocates Forum of the Massachusetts Rivers Alliance http://massriversalliance.org/aboutus.html

Heidi Ricci, Mass Audubon senior policy analyst, serves on the Advisory Group of Stakeholders for the DCR Forest Futures Visioning Process.

Russ Richardson
is a native of western Massachusetts and a 1973 graduate of the University of Montana School of Forestry. He has worked as a consulting forester advising private woodland owners in the management of their property for nearly 30 years with the emphasis of his work centered on the science of applied Silviculture and practical ways to encourage and implement multiple use aspects of forest management on private lands. He has maintained a long term interest in woodland medicinals and has spent over ten years studying aspects of incorporating the sustainable production of Nontimber forest products in concert with accepted principles of Silviculture-based timber management. Today, he is a Calhoun County, West Virginia woodland owner and Tree Farmer who regularly uses his property, Crummies Creek Tree Farm for educational programs. Crummies Creek Tree Farm has been recognized by the State of WV as a Stewardship Forest and as a Model Forest by the Forest Guild.
Russ is also a Certified Forester, Registered Forester, member of the WV Forest Stewardship Committee, Editor of the WV Tree Farm Newsletter, member of the WV Ginseng Growers Association and a licensed Real Estate Broker. West Virginia.
Jess Riddle:
Leading explorer of OG in northern Georgia and South Carolina.
He is a masters student in the ecology program at the State University of New York-College of Environmental Science and Forestry where his research focuses on the climate-growth relationships of eastern red cedar and common juniper.
His interests started as a child in a fascination with big trees and have gradually spread to encompass anything that lives in a forest and does not run away from him. He spent three summers locating and documenting old-growth forests on the Chattahoochee National Forest in the mountains of northern Georgia . With Will Blozan, he designed and lead research for the Tsuga Search project.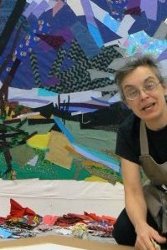 Lorraine Riebel

MFA thesis show, Johnson State College,VT, coming in March, 2010. Theme is "Being in Place" with paintings and drawings of landscape near my home. I am particularly interested in the process of contemplation in natural settings as it inspires one to create. More recently I have been developing panoramic works in watercolor, and in pencil, with multiple sheets of paper. These are big. Hope to grad in June!

BFA Cleveland Institute of Art 2003, Painting

Between 1975 -1983, have taken courses mostly in education, bilingual education. My first botany and biology courses were during these years fulfilling state teaching certification requirements in Illinois.

BA Lawrence University 1975 Russian linguistics, Elementary teacher's certificate with 7 years teaching experience before having my own three sons.

Have been in the garden since I could walk, planting seeds against the house, planning and digging beds, vegetable gardening. My father liked to plant things. Also, lifelong interest in just being in natural areas, interests in identifying trees, woody plants, wildflowers, some grasses, insects, birds, organic gardening, garden planting for wildlife. Spent a summer as a teenager in rural Dominican Republic with grandparents with an experience that showed how differently people can live. As a college student I traveled to Eastern Europe, then Soviet Union, and Spain. Lifelong interests in music, dance, and drawing. Now painting and exploring, too.

Last year I did a fall semester artist residency in Altos de Chavon, La Romana, Dominican Republic in association with La Escuela del Diseno de Altos de Chavon. This is located along the spectacular canyons of the Chavon River, just a few miles north of where I spent the summer at my grandparents as a teen. I painted watercolor landscapes from life, doing my first panoramas there, and smaller watercolor paintings, from memory and sketches, of Dominican life as I saw it. I am excited about how art and being in nature interconnect. Seems like a double reward to me.

Am an avid gardener--vegetable, herbs, for wildlife, small fruits, fruit trees, woodland trees and plants, perennials, annuals. I guess you name it. I put in a vernal pond this past fall and anticipate watching some frogs hatch next spring, hopefully—hearing them, too! I received a National Wildlife Federation Wildlife Habitat Certificate for planting for wildlife. I pack a lot in a ½ acre plus yard. And we see a very good to excellent variety of wildlife considering this is life in the suburbs. This fall I shot photos of a ten point buck resting in the creek ravine and a great gray heron fishing while I painted.

I spent about 5 years working part time at Cahoon Nursery, Westlake, Ohio, mostly working in annuals, hosta, and perennials. Came to know Steve Galehouse(ENTS) and his wife Diane there. The nursery work helped me learn much more about woody and non woody plants and assist others to make beneficial and interesting plant choice decisions while encouraging enthusiasm for all levels of gardening in general.

Sandy Rose

Thirty-seven years of tree care & tree transplanting experience. Thirty-years consulting in Texas plus projects in Virginia, Mississippi, Louisiana, Arkansas, Oklahoma and Alabama.

G. Sandy Rose, RCA
Registered Consulting Arborist
Shade Masters, Inc.
PO Box 13533
Arlington, TX 76094


Shade Masters, Inc.
http://www.gsandyrose.com/

Tree care, tree transplanting, protection of trees in developments, tree spade tree relocation, inspection of tree & landscape installation projects, more ...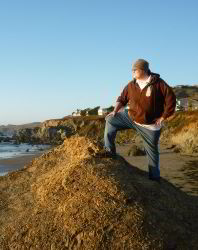 Sean Robertson

I was born and raised in Virginia. Currently finishing up a BS in Environmental studies from Shenandoah University. I have a random set of interests ranging from old growth redwoods to snapping turtles to orchids and carnivorous plants
Currently residing in Novato, CA

Gary Rief

I live near Rochester NY, like to xc ski, fix up trails in the summer, sometimes making maps of them. Been doing a little mapping of big trees in the area, but nothing finished yet. Powder Mills Park has a fair number of big trees (4 ft dameter or more, in this neck of the woods), some of which are rather close together on top of somewhat inaccessible hills/slopes which makes me wonder if we have a pocket of old growth here (about 2 acres, I think). Someday I will get all the stuff I have been collecting on the website:

http://www.powdermillspark.com

but right now it is very plain and boring and has only my first generation hiking trail map.