Robert T. Leverett

Friends of Mohawk Trail State Forest: Cofounder (1993), President, and principal old growth forest ecologist for this federally recognized non-profit environmental organization and an officially recognized Friends organization to the state forests and parks of the Commonwealth of Massachusetts.

Eastern Native Tree Society (ENTS): Cofounder, executive director, and principal mathematician of ENTS – a forest and tree advocacy organization with 380 members devoted to scientific research, tree modeling and measurement, education, and general enjoyment of forests and trees. Membership consists of academics, government scientists, professional foresters, arborists, research scientists in environmental organizations, and ordinary citizens. The core of ENTS is an advanced tree measuring group, which develops methods for measuring trees to a high level of accuracy.

Ancient Eastern Forest Conference Series: Principal architect, and presenter. Conferences held on eastern old growth forest sites bring together academics, resource managers, and environmental activists to share information on eastern old growth and present technical papers. Conferences held at University of North Carolina; Williams College, MA: University of Arkansas(2 events): Clarion University of Pennsylvania: University of Minnesota, Harvard University-Harvard Forest, Sweet Briar College, VA, and the University of New Hampshire, Eastern Kentucky University.

Forest Summit Lecture Series: Cofounder with Professor Gary Beluzo Sponsored annually by Holyoke Community College, Holyoke, Massachusetts as a public service. Six conferences held to date. Conferences present updated information of old growth forests in the East. Leverett is the primary presenter on Massachusetts old growth sites.

Eastern Old Growth Forest Clearing House - Georgetown, KY: Advisor and consultant to this organization dedicated to accumulating and archiving information on eastern old growth forests

Books

'Eastern Old Growth Forests-Prospects for Rediscovery and Recovery' A co-conceptualizer of the book with Dr. Mary Byrd Davis. An assistant editor and a coauthor of this widely received book on eastern old growth forests. A publication of Island Press (1996).

'Stalking the Forest Monarchs-A Guide to Measuring Champion Trees'

Coauthor of. self-published book with Will Blozan on how to measure champion trees (1997). Included new measurement techniques.

'Old Growth In The East, A Survey' Wrote forward and lead essay for Dr. Mary Davis's publication seminal publication on the old growth sites in the East, 1993. Provided the data for southern New England and selected sites in northern New England, New York, Pennsylvania, and the southern Appalachians. Assisted Mary Davis with the 1996 update.

'Re-Wilding the Northeast - A New Wilderness Paradigm'

A coauthor of the book. Wrote lead chapter on eastern old growth. Published by University Press of New England

'Sierra Club Guide Book to Ancient Forests of the Northeast'

Coauthor with Bruce Kershner of this 2004 book on old growth sites in the Northeast.

'American Indian Places – A Historical Guidebook' Contributor to this book organized by Frances Kennedy. Houghton Mifflin Company, 2008

John Daviis, Conservation Director of the Adirondack Council, commented on Bob and his role as an "Evangelist for Old Growth": "It was your contagious and charismatic enthusiasm for big and old trees in part, Bob, but also your commitment and dedication to wild forests, your powers of articulation in describing them, your sleuth-like ability to find them, and your moving sermons on their behalf! In short, with respect to great trees and wild forests, you speak with authority. You've a clear vision of how the East should be broadly and wildly forested, again some distant day."

Monica Jakuc Leverett

Treasurer of the FMTSF
http://www.monicajakucleverett.com/

Born in Newark, New Jersey, Monica Jakuc (Leverett) received her Bachelor's and Master's degrees from The Juilliard School, where she studied with James Friskin and Beveridge Webster. She later worked with Leon Fleisher at the Peabody Conservatory and with Russell Sherman in Boston. Konrad Wolff, renowned pianist, pedagogue and historian, was also one of her mentors.

Monica Jakuc (pronounced Ya kutch) is the Elsie Irwin Sweeney Professor of Music at Smith, where she has taught since 1969. Her performance of J. S. Bach's "Goldberg" Variations at Merkin Hall was hailed by New York Times music critic Tim Page as "an auspicious debut...one will observe Miss Jakuc's career with more than usual interest."

A champion of contemporary music, Ms. Jakuc opened her 1988 London debut recital with the first performance of a work written especially for her by Ronald Perera. New York audiences first heard her perform in 1980 at Alice Tully Hall in "A Program of Twentieth-Century Music for Two Pianos" with pianist Kenneth Fearn. Other concert highlights include a series of recitals in Japan, many appearances on the East and West Coasts, and a highly successful tour in Alaska.

In recent years, she has featured the music of women composers on her programs, which have included appearances at two national conferences: Feminist Theory and Music III in Riverside, California, and "Women in Music: the Last 100 Years" in Athens, Ohio. She has also been a featured artist at International Association of Women in Music concerts in London and Washington. She has given lecture-recitals on women composers at Oberlin Conservatory of Music, and at colleges in the Northeast.

Inspired by Malcolm Bilson, Monica Jakuc has also performed on early pianos since 1986. As a frequently invited guest artist in a series of Historical Piano Concerts, she has played instruments from the E.M. Frederick Collection in Ashburnham, Massachusetts. She was both an organizer of, as well as a performing artist in, HaydnFest 1990, an international conference of scholars and performers held at Smith College, and co-sponsored by the Westfield Center for Early Keyboard Studies. She has also appeared as guest soloist with Arcadia Players, and will debut her new 6 1/2 octave McNulty fortepiano in their series this season playing Schubert's "Winterreise" with Peter W. Shea, tenor.

With noted early music violinist Dana Maiben, she recorded Francesca LeBrun's complete Opus 1 Sonatas for Fortepiano and Violin on Dorian Discovery. She has also played fortepiano sonatas by Marianne von Martinez, Marianna von Auenbrugger, and Joseph Haydn on a Titanic Records CD. Her new recording of "Fantasies for Fortepiano" by Mozart, Haydn, C.P.E. Bach and Beethoven is now available on cdbaby.com.
http://cdbaby.com/cd/monicajakuc
http://www.smith.edu/music/faculty_jakuc.php

Ponderosa Pine, Colorado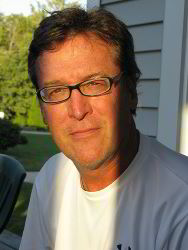 Miles Lowry
Artist's Statement
Most Americans are accustomed to past romantic photographic images of what was thought to be an undisturbed land. They consider the Ansel Adams' images of the American West their definition of American grandeur. The images in this collection represent my attempt to draw attention to additional places where grandeur resides-those forest and savanna cathedrals found in almost every state in the East. In effect, I hope to contribute to a re-definition of American grandeur to include species complexity, diversity and subtlety as parts of the standard. To me, grandeur also resides in the simplicity of organic natural forms seen in the forest. These old growth remnant sites are indeed the last echoes of a forest that dominated the eastern landscape and still serve as genetic reservoirs for our forested future. By the time I am finished, I will have photographed from the dry savannas of Arkansas/Texas to upstate New York and from the boreal forests of northern Minnesota to the swamps of South Carolina. Production Notes All prints in this series were made using a combination of traditional and digital photographic techniques. The scene was captured with a traditional camera using black and white negative film. That film was scanned and converted to a digital file, optimized using photographic software and printed using archival carbon pigment inks with an inkjet printer onto Hahnemuhle German Etching paper. Each individual frame in this three-frame assembly has a separate plane of focus. The narrative is enhanced as the viewer is led through the scene as one would if present while the picture was captured – focusing on various places within the scene as one would while standing in the place.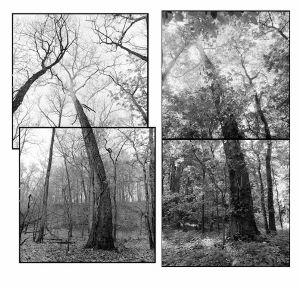 Miles Lowry Old Growth Gallery


excerpts from an article by Miles Lowry
http://www.nativetreesociety.org/
photography/index_photo.htm :

"I make no attempt at trying to show the whole of the Eastern forest giants I find. My images of both forests and savannas are made of various combinations of square images captured with my medium format Hasselblad. I use old style film. After developing it chemically, I scan the negative and improve the images digitally. Instead of hiding the dark film edges when I combine the images in Photoshop, I emphasize them. (

cont.)