Jim Fay

The Cane Gent

Hi-I live in a little town halfway between Boston and Providence RI. It has 15 Square Miles and 1 blinking light-hard to believe all this wilderness only 20 Miles from either city. I spent 30+ Years in Sales and Marketing of Office Supplies, specializing in Upscale Writing Instruments and Small UK Leather Goods. As a manufacturers representative, I was a "FreeLance" Sales Rep and had my own firm until recent retirement. I enjoy Gardening, Computers and Sailing, having logged well over 14,000 Nautical Miles-thats' a lot of Green Waves, Storms, Fog and Sunshine. In demand as a Navigator, I have raced all over New England and taught Navigation.

I Collect Walking Sticks as well as being a Master Wood Turner. I have worked with over 200+ kinds of domestic and exotic woods.

Last year I awoke from a 3 Month Coma to find my Leg gone And that I had had a semi-paralyzing Stroke while "Napping". A rude wakening indeed. I have spent Months in Hospitals learning to walk all over again.

http://members.ebay.com/ws/eBayISAPI.dll?ViewUserPage&userid=thecanegent


Willard Fell:
In 2007 after 30 years with the state, starting as a county forester in Jeff Davis County deep in South Georgia on the Altamaha River, I retired from the Georgia Forestry Commission as district supervisor of the coastal district of Southeast Georgia. I am currently working part time on a USFS grant developing Community Wildfire Protection Plans for counties in Georgia. I am state coordinator of the Georgia Champion Tree program and my passions include kayaking around the isolated sea islands of Georgia's pristine coast and the blackwater rivers of SE GA. I am also an avid cyclist and while I have saltwater in my blood, I head for the mountains to hike when time allows. While I haven't taken up pasture pool (golf) in my retirement, I did discover snow skiing in Colorado last winter.

I am a graduate of the Univ. of Georgia (GO DAWGS) with a BS in Forestry. My interest in forestry was spurred while serving on the St Joe NF Hotshot Crew in Idaho as a nineteen year old and then I spent almost 10 years in law enforcement before I realized my ambition to work in forestry. I am also active in environment issues, currently serving as board member of the Ogeechee-Canoochee Riverkeeper's and the Savannah Bicycle Campaign. I am also active in the Coastal Georgia Greenway, the Coastal Plains Chapter of the Georgia Botanical Society, The Georgia Southern Botanical Garden and until recently have served on the Coastal Advisory Council of Georgia's Coastal Zone Management program.

My biggest concern is the fragmentation of SE Georgia's forest land as forest industry continues to divest lands to various investment groups. While I have had my concerns about plantation forestry, at least under their management they were looking at the long term strategy, whereas now vast blocks have been bought up by owners only concerned with the short term investment potential.
http://community.webshots.com/user/will_30458

George Fieo
I reside in Limerick Twp., SE Pennsylvania.
George is one of ENTS top tree measurers working primarily in eastern Pennsylvania. He has provided measurements and photographs from the Delaware National Water Gap, Valley Forge NP, John James Audubon Center, Cedar Hollow Preserve, Pool Wildlife Sanctuary, the Camp Woods Preserve, and even some large white pines in Potter County, PA and Pokomoke River State Forest in Maryland to name just a few of the sites.
Jessica and Dave with 8'1" x 115.2' eastern hemlock, Hornbecks Creek, Delaware Water Gap.
Edward Frank
edfrank@comcast.net
Edward Forrest Frank
edfrank@comcast.net

I am a member of the Executive Committee of the Native Tree Society (NTS) http://www.nativetreesociety.org and serve at webmaster of their website and as administrator of the NTS Bulletin Board at http://www.ents-bbs.org. I am the editor of the groups' monthly magazine eNTS: The Magazine of the Native Tree Society http://www.nativetreesociety.org/ magazine/index_magazine.htm. I am involved with a number of the groups.' research projects including documentation of patches of old growth forest and significant tree sites. Some representative articles include among others: Trees and Forests of the Allegheny River Island Wilderness and Nearby Islands: Interim Report through December 2011 by Edward Frank, Dale Luthringer, Carl Harting. and Anthony Kelly, Pockets Full of Forest in Fall 2011 issue of the Bulletin of the Eastern Native Tree Society, Vol. 6, No. 4 , The Really, Really Basics of Laser Rangefinder/Clinometer Tree Height Measurements , and On Defining a Forest Aesthetic.
I am by training a geologist with a BS degree from Western Kentucky University, and MS in Geology from Mississippi State University. Thesis title: Aspects of Karst development and Speleogenesis Isla de Mona, Puerto Rico: An Analogue for Pleistocene Speleogenesis in The Bahamas. I am a long time member of the national Speleological Society. I have peer reviewed published papers in fields ranging from spelean history, geology, archaeology, vertebrate paleontology, karst processes and speleogenesis. Some examples: Journal of Cave and Karst Studies, Vol. 60(2), August 1998.
I worked for the BLM at the Pecos River Projects Office in New Mexico on the Brantley Dam Feasibility Project. I was a geologist for engineering firms preparing surface mine permits for the Pa. Bureau of Mining. I was research Faculty at the University of Central Florida's Sinkhole Research Institute with duties including the investigation of new sinkhole openings in the State of Florida, and maintenance of the Florida Sinkhole database. I was a Teaching Assistant at the University of Minnesota and at Mississippi State University.
I am an avid writer, photographer, and videographer. I am suave, sophisticated, intelligent, witty, charming, sexy, devilishly handsome, and above all modest.
Lee Frelich
freli001@umn.edu
Lee E. Frelich is the founder and Director of the University of Minnesota Center for Hardwood Ecology. He is also Vice President of The Eastern Native Tree Society
http://cffe.cfans.umn.edu/
He received a Ph.D. in Forest Ecology from the University of Wisconsin-Madison in 1986. Frelich teaches courses in Forest Fire Ecology and Landscape Ecology on St.Paul Campus. He has advised 18 graduate students, and is a senior member of the Conservation Biology, Natural Resource Science and Management, Ecology, and Invasive Species Graduate Programs. Frelich has published numerous papers on forest ecology and has been listed among the top 1% of all scientists in the world in the Science Citation Index, Ecology and Environment Category. He has appeared in the news media 200 times including /The New York Times/, /Newsweek/, /National Geographic/, and many TV and radio stations. Current research interests include fire and wind in boreal forests, long-term dynamics of old-growth hemlock and maple forests, invasive earthworms in forests, and global warming.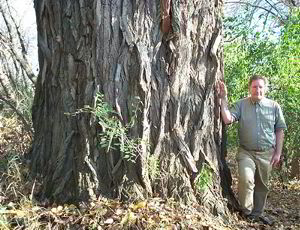 Dr. Lee Frelich is one of the most distinguished forest ecologists in the United States and the foremost expert on natural forest disturbance regimes in the forests of the upper Mid-West. He is the author of "Forest Dynamics and Disturbance Regimes". Lee is often called on as an expert witness on subjects that span the spectrum of forest issues from the potential impact of climate change to what constitutes an old growth ecosystem.
http://www.forestry.umn.edu/People/Frelich/index.htm

Dr. Mark R. Fulton

Professor of Biology (Ecology/Botany)
Bemidji State University
Bemidji, Minnesota
Website: http://faculty.bemidjistate.edu/mfulton/

I grew up in Connecticut and spent most of my summers in the forests of northern Minnesota. I did my B.S. (Botany/Geology) and M.S. (Plant Ecology) at University of Wisconsin - Madison, followed by a Ph.D. in Ecological Botany from Uppsala University in Sweden (Dissertation: "Simulation modelling of some forested landscapes in Sweden"). Three years of post-doctoral work in Texas and Tennessee followed, and then three years on a Huxley Research Instructorship at Rice University in Houston, working with Paul Harcombe on the Big Thicket long-term research project. Since 1998, I've been a professor of biology at Bemidji State University in northern Minnesota. Current research interests include forest community dynamics, and physiological constraints on tree height. For fun I climb trees, read, listen to music, walk in the woods, and hang out with my family


I've been at the BSU Biology department since Fall 1998. I teach courses in general biology, ecology, and various aspects of botany. Research interests are centered on plant community and plant population ecology, with a particular emphasis on the structure and dynamics of forests. To anyone who asks "Which do you like better, teaching or research?", I answer "Yes".

Recent Publications:

Shoemaker, R. and M. Fulton. (Accepted) The effects of prescribed burning in a reestablished prairie on monarch butterfly (Danaus plexippus L.) and milkweed (Asclepias syriaca L.) populations. Journal of the Kansas Entomological Society. Abstract

Shalene Jha, P.A. Harcombe, M.R. Fulton, & I.S. Elsik. 2004. Potential Causes of American Beech decline in Wier Woods, TX. Texas Journal of Science 56(4): 285-298. Abstract