South Dakota
---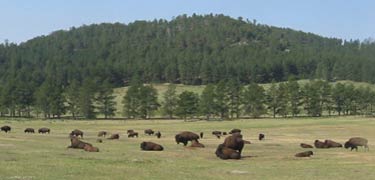 Wind Cave National Park - photo by US Park Service

South Dakota
On March 14, 2010 the Eastern Native Tree Society and Western Native Tree Society switched from discussion lists on Google Groups to a new discussion list in a Bulletin Board format at: http://www.ents-bbs.org/index.php Posts made since the inception of the BBS on March 14, 2010 will be sorted and archived on the BBS. Click on the link to go to the equivalent section on the new BBS. This website will continue to serve as a front end for the ENTS and WNTS groups. It will continue to serve as a repository of older posts, and will serve as the host site for special projects and features that are not well suited for a BBS format. Please visit the BBS for the latest information and trip reports.
Field Trips and Discussions
Wind Cave National Park http://www.nps.gov/wica/index.htm One of the world's longest and most complex caves and 28,295 acres of mixed-grass prairie, ponderosa pine forest, and associated wildlife are the main features of the park. The cave is well known for its outstanding display of boxwork, an unusual cave formation composed of thin calcite fins resembling honeycombs. The park's mixed grass prairie is one of the few remaining and is home to native wildlife such as bison, elk, pronghorn, mule deer, coyotes, and prairie dogs.
Black Hills National Forest http://www.fs.fed.us/r2/blackhills/ The Black Hills National Forest is located in southwestern South Dakota and northeastern Wyoming on 1.2 million ponderosa pine-studded acres ranging in elevation as high as 7,242 feet. Amid the splendid scenery are 11 reservoirs, 30 campgrounds, 26 picnic areas, 2 scenic byways, 1,300 miles of streams, 13,426 acres of wilderness, over 450 miles of trails, and much more.
Needles Area Old Growth Report http://www.fs.fed.us/r2/blackhills/resources/fact_sheets/og_rpt.pdf
Custer State Park http://www.sdgfp.info/parks/Regions/Custer/Index.htm Custer State Park in the Black Hills encompasses 71,000 acres of spectacular terrain and an abundance of wildlife. Favorite outdoor activities include hiking 7,242-foot Harney Peak, mountain biking, horseback riding, rock climbing, fishing, chuckwagon suppers and jeep rides to see the bison. The park boasts scenic drives such as the Needles Highway (SD 87), which twists and turns its way past towering rock formations and through narrow tunnels. At the end of one tunnel stands the Needles Eye, a granite spire with a slit only 3 to 4 feet wide but reaching 30 to 40 feet in the air.
GORP - South Dakota Wilderness Areas http://gorp.away.com/gorp/resource/us_wilderness_area/sd.htm - Black Elk Wilderness
---
South Dakota's forest resources in 2005 http://www.treesearch.fs.fed.us/pubs/19108 Results of the 2005 annual inventory of South Dakota show 1.7 million acres of forest land in the State. Timberland accounted for more than 90 percent of the forest land area. More than 70 percent of the timberland is publicly owned. Eighty percent (1.2 billion cubic feet) of the growing-stock volume on timberland came from ponderosa pine. All live aboveground tree biomass on timberland totaled 30.3 million dry tons. Major insect problems in South Dakota's forests were mountain pine beetle and the pine engraver beetle.
---