Arizona
---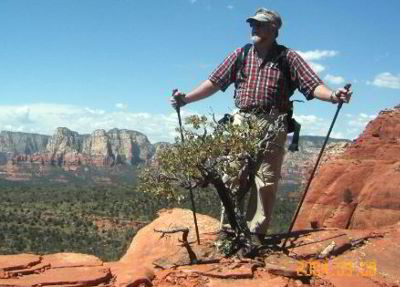 Sedona Canyon

Arizona
On March 14, 2010 the Eastern Native Tree Society and Western Native Tree Society switched from discussion lists on Google Groups to a new discussion list in a Bulletin Board format at: http://www.ents-bbs.org/index.php Posts made since the inception of the BBS on March 14, 2010 will be sorted and archived on the BBS. Click on the link to go to the equivalent section on the new BBS. This website will continue to serve as a front end for the ENTS and WNTS groups. It will continue to serve as a repository of older posts, and will serve as the host site for special projects and features that are not well suited for a BBS format. Please visit the BBS for the latest information and trip reports.
Field Trips and Discussions
Kaibab Plateau, AZ People FYI: Form the Center for Biological Diversity: This Tuesday, the Center for Biological Diversity sharply criticized the U.S. Forest Service's latest take on devastating plans to log old-growth trees in the Kaibab National Forest. Unfortunately for the forest -- which houses the country's largest breeding population of the imperiled northern goshawk -- the Forest Service has issued a new environmental assessment for the controversial Jacob Ryan timber sale, which would log 26,000 acres but was halted in May thanks to work by the Center and Sierra Club. The new assessment drops protections for old-growth trees, essentially stating that the Kaibab Plateau has too much old growth -- so axing those irksome old, large trees will be good for wildlife.... more » Oct. 22, 2009
aspen in trouble in AZ.... September 18, 2009
Oak Creek Canyon, AZ Jan 2009
aspen in trouble in AZ.... Sept 18 2009
Arizona Forests (Arizona Forests) August 10, 2009
Logging in the Kaibab National Forest http://groups.google.com/group/WNTS/browse_thread/thread/4e8d50a201c77938 July 9, 2009
Grand Canyon Cottonwoods Feb 2005
Sedona Canyon- Is this Old Growth? Sept 2004
North Rim Forests Jan 2003
Rodeo/Chediski Fire July 2002
Kaibab Plateau History May 2002
Gigapixel Project - Grand Canyon March 2005
---

Grand Canyon National Park http://www.nps.gov/grca/index.htm Grand Canyon National Park, a World Heritage Site, encompasses 1,218,375 acres and lies on the Colorado Plateau in northwestern Arizona. It is considered one of the finest examples of arid-land erosion in the world. The Canyon, incised by the Colorado River, is immense, averaging 4,000 feet deep for its entire 277 miles. It is 6,000 feet deep at its deepest point and 15 miles at its widest. The Park contains several major ecosystems. Its great biological diversity can be attributed to the presence of five of the seven life zones and three of the four desert types in North America. The five life zones represented are the Lower Sonoran, Upper Sonoran, Transition, Canadian, and Hudsonian. This is equivalent to traveling from Mexico to Canada. The Park also serves as an ecological refuge, with relatively undisturbed remnants of dwindling ecosystems (such as boreal forest and desert riparian communities). It is home to numerous rare, endemic (found only at Grand Canyon), and specially protected (threatened/endangered) plant and animal species. Over 1,500 plant, 355 bird, 89 mammalian, 47 reptile, 9 amphibian, and 17 fish species are found in the park.
\
Grand Canyon - photo by US National Park Service

Organ Pipe Cactus National Monument http://www.nps.gov/orpi/index.htm

Saguaro National Park http://www.nps.gov/sagu/index.htm
Ironwood Forest National Monument

Ironwood Forest National Monument http://www.az.blm.gov/ironwood/ironwood.htm This 129,000-acre national monument contains a significant system of cultural and historical sites covering a 5,000 year period. Possessing one of the richest stands of Ironwood trees in the Sonoran Desert, the monument also encompasses several desert mountain ranges including the Silver Bell, Waterman and Sawtooth, with desert valleys in between. Elevation ranges from 1,800 to 4,261 feet. Three areas within the monument, the Los Robles Archeological District, the Mission of Santa Ana del Chiquiburitac and the Cocoraque Butte Archeological District are listed on the National Register of Historic Places.

GORP - Arizona Wilderness Areas http://gorp.away.com/gorp/resource/us_wilderness_area/az.htm The variety of wilderness areas in Arizona is really quite amazing - ranging from the stark beauty of the desert to dense conifer forests in alpine areas. Apache Creek, Aravaipa Canyon, Bear Wallow, Blue Range, Cabeza Prieta WA - Cabeza Prieta, Castle Creek, Cedar Bench, Chiricahua, Escudilla, Fossil Springs, Four Peaks, Galiuro, Granite Mountain, Havasu WA, Hellsgate, Imperial WA, Juniper Mesa, Kachina Peaks, Kanab Creek, Kendrick Mountain, Kofa WA, Mazatzal, Miller Peak, Mt. Baldy, Mount Wrightson, Munds Mountain, Pajarita, Pine Mt., Pusch Ridge, Red Rock - Secret Mountain, Rincon Mountain, Saddle Mountain, Salome, Salt River Canyon, Santa Teresa, Sierra Ancha, Strawberry Crater, Superstition, Sycamore Canyon, Trigo Mountains, West Clear Creek, Wet Beaver, Woodchute.

Kaibab Plateau http://www.swfa.org/ (Southwest Forestry Alliance) The Kaibab Plateau, perched on the North Rim of the Grand Canyon, the Kaibab Plateau is home to the greatest remaining density and distribution old growth pines. Numerous sensitive wildlife species, including the Mexican spotted owl, the Kaibab squirrel and the Northern goshawk and the Apache Trout depend upon this unique area.