witch's brooms
Barry Caselli
May 15, 2006 19:53 PDT

One tree phenomenon that I enjoy finding here in the NJ Pine Barrens is
"witch's brooms" (on Pitch Pines). From my limited research, this is
what they are called. I don't quite know or understand all about them,
but I enjoy noticing them while driving around the Pine Barrens.
I have photos of probably 4 or 5 of them, but have seen dozens.
Normally they are on a branch, but I know of a White Pine in a
residential area whose entire top is a witch's broom! I have a photo of
it as well. Also I drove past it today.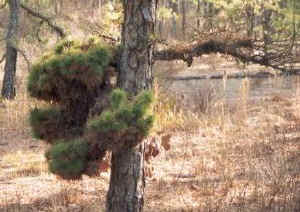 Witch's Broom on Pitch Pine

Being that the Pine Barrens is such a large forested area, these things
are quite easy to find.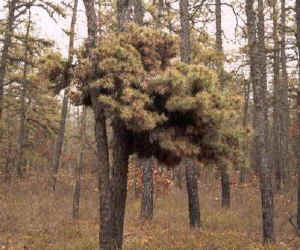 Witch's Broom on Pitch Pine

One time I found one on a White Pine at work, and someone ran some
machinery next to the tree which it was on, and broke it off the tree.
I've got it in the back seat of my car.

Barry
Re: witch's brooms
Michele Wilson
May 15, 2006 21:48 PDT

And what do folks say when they see your witches broom sitting in the back
of your car?!

Years ago (1978? 1979?) I had a wonderful '63 Ford Fairlane 500 that I named
"Little Wing" (in honor of both her little wings at the back and because I
love Jimi Hendrix guitar...). Anyway, I had been collecting conks from my
endeavors in the forest and had decorated my back dash with them, lots of
them. Some were fairly good size and I still have most of them to this day.
I thought they looked very nice sitting in my car. One day I pulled into a
gas station in downtown Springfield (MA) and the attendant, a young man who
definitely looked liked he'd rather be playing video games...except I don't
think they'd been invented yet...well, as he was attending my car, back in
the days when many, many service stations still had attendants and it was
winter and I was already freezing seeing as I had no heat in the car(!), so,
yes, I let him do the gas filling routine while I huddled in my mouton coat,
anyway, he hesitatingly said, "Uh, ma'am, do you know that you have a bunch
of fungus in the back of your car?!" I replied with a grin "Yes, I put it
all there!!!" and drove off. I know the young man thought I must be insane
and I still chuckle about the horrified expression on his face! I have all
sorts of conks, rocks, tree cookies, etc. all over my abode... even a tail
or two from some unfortunate creature that I came upon. My sisters think
I'm nuts but they should go to the house of a former assistant who also
collected moose turds and made them into house decorations...such is the
Life of Forest Workers!!!

Michele

RE: witch's brooms
Barry Caselli
May 16, 2006 01:57 PDT

My car is big and has tinted windows, so people can't really see into
the back seat. Plus right now the car is off the road and I drive my
pickup every day. The only people who have seen it are those who would
understand anyway.


Re: witch's brooms
Edward Frank
May 16, 2006 13:57 PDT

------=_NextPart_001_0024_01C67909.C9F040B0
Content-Type: text/plain;
charset="iso-8859-1"
Content-Transfer-Encoding: 8bit

Barry and Michele,

I wasn't quite sure what is a "Witch's Broom" so I looked it up on the internet. I found a couple of intresting links regarding them in white pine:

The Wicked Witch That Haunts And Kills Trees
http://www.doorbell.net/lukes/a010501.htm

Village Garden Web Forum
http://forums.gardenweb.com/forums/load/conif/msg051105152653.html?10

I saw brooms like these at Craters of the Moon National Park in Limber Pine? trees along the Devil's orchard Trail. I have attached a small photo. These were caused by mistletoe affecting the growth pattern of the tree. I have not noticed them in trees around here, perhaps I need to pay more attention.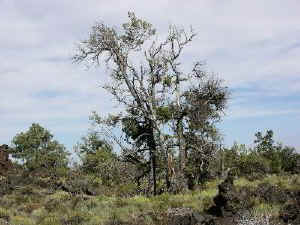 The Pine Barrens are a unique ecosystem. I would be worthwhile to document some of these forests, tree types and sizes, associated plants, and setting for our dataset, even if they are not the tallest pine trees.

Ed Frank


RE: witch's brooms
Barry Caselli
May 16, 2006 14:49 PDT

Thanks for the links.
One favorite broom is one that's along the Harrisville-Martha Road in
Washington Twp., Burlington County, NJ. Harrisville and Marth are 2
ghost towns in the Pine Barrens. That road is a one-lane sand road. The
broom is right along the roadside. In my travels through the Pine
Barrens in the last 21 years I've probably seen several dozen of them,
all in Pitch Pines except for the 2 White Pines mentioned previously. I
may have also seen them in Atlantic White Cedar. I'm not sure. We have a
lot of that here too.
Barry

Re: witch's brooms
Fores-@aol.com
May 16, 2006 15:12 PDT
ENTS

In West Virginia we see witches brooms from mistletoe in black gum and awful
lot and although it can be found in several other species black gum seems to
be the favorite here.

It is invisible most of the growing season but once the leaves drop in the
fall it is hard to miss those patches of evergreen leaves and fat limbs with
contorted twigs in the upper and outer branches of the BG trees. I know it
wrecks the timber but it isn't really a major problem for us and I like knowing
we have some in our woods at Crummies Creek.

I don't know if they harvest it in other places for sale around the holidays
but some resourceful people in these parts will shoot the branches with the
biggest clumps of mistletoe off the trees and gather it from the ground as it
falls. However, black gum has such a low commercial value that people
sometimes just cut the trees down to harvest the plant.

Russ

Re: witch's brooms
wad-@comcast.net
May 17, 2006 04:01 PDT
Ed, Barry, ENTS

Witch's brooms are mostly responsible for the compact cultivars that are on the market. Take a cutting from one and root it and it keeps growing that way.

Scott

RE: Witch's broom pictures
Barry Caselli
May 20, 2006 15:55 PDT

Just wanted everyone to know, I finally found the pictures of the White
Pine, in which the entire treetop is a witch's broom. I uploaded two
pictures of that tree, plus one more of one on a Pitch Pine, plus a
picture of one on a Scrub Oak.

Plus I've now got all the flower and plant galleries completed for now.
I did some more uploading, some deleting, and some rearranging. There
are some flowering trees included.
I think you will enjoy them.
See link below.

Barry


---
White Pine Witches Broom http://groups.google.com/group/entstrees/browse_thread/thread/764f762ec1add3e5?hl=en
Jan 2009
---