==============================================================================
TOPIC: Ailanthus? what is the biggest you've found?
http://groups.google.com/group/entstrees/browse_thread/thread/14f6a056984e3d42?hl=en
==============================================================================

== 1 of 2 ==
Date: Sat, Mar 29 2008 10:22 am
From: pabigtrees


ENTS

I don't normally care about tree of heaven, as a matter of fact I
usually seek them out to chemically girdle them. I ran across a
specimen that I could not muster the spirit to kill. It grows among
canopy trees of oak, ash, beech and hickory that age between 100 and
150 years old. This particular Ailanthus is a male, and does not have
a limb for the first 40-50 feet of trunk. It has a cbh of 7' 4" and
is 104' tall with a 45' spread. It is the best looking form of the
tree that I have ever seen. How does it compare to specimens in your
neck of the woods?

Scott

---
== 2 of 2 ==
Date: Sat, Mar 29 2008 6:30 pm
From: James Parton

Scott,

I actually like Paradise Tree or Tree of Heaven. I know of a fair
sized patch of woods that is dominated by them. It is true they are
often invasive but still they can be pretty. The largest one I know of
is between Etowah and Brevard NC near hwy 64. I have not been out to
measure it but soon I will. I will soon have the ability to do height
measurements as well as cbh.

JP

---
==============================================================================
TOPIC: Ailanthus? what is the biggest you've found?
http://groups.google.com/group/entstrees/browse_thread/thread/14f6a056984e3d42?hl=en
==============================================================================

== 1 of 6 ==
Date: Sun, Mar 30 2008 5:30 am
From: pabigtrees


James

let me know what you find. I am suddenly curious of what this tree
can do. It was introduced in the 1700's so there should be a few
larger ones out there. Here in SE Pa there seems to be a beetle that
attacks wounds in the Ailanthus and cut horizontal galleries in the
trunk. They then snap off in storms right on the gallery. I have a
picture somewhere. I have to catch one of the beetles and have it
ID'd sometime. In my effort to reduce chemical usage, I have wounded
Tree of Heaven and waited. One tree was killed about two years later
by the beetle!

Scott

---
== 2 of 6 ==
Date: Sun, Mar 30 2008 5:30 am
From: ForestRuss@aol.com


Scott:

I have encountered more than one Ailanthus over 6' CBH. I think that
because it is a recent arrival in much of this part of the world we are decades
from finding out its' maximum size.

Russ

---
== 3 of 6 ==
Date: Sun, Mar 30 2008 5:36 am
From: ForestRuss@aol.com

Scott:

I think that the bug is powder post beetles. There is a lot of research
underway to find ways to treat and kill ailanthus because of its severe invasive
properties including allelopathy that has now been proven.

Russ

---
== 4 of 6 ==
Date: Sun, Mar 30 2008 6:35 pm
From: James Parton

Scott,

One reason larger ones may be hard to find is because of the fact that
people find them a " weed " tree and kill them back before they reach
a large size.

JP

---
== 5 of 6 ==
Date: Sun, Mar 30 2008 7:01 pm
From: tsharp13@suddenlink.net


Scott:
In times past in West Virginia I have seen at least two small patches
of Ailanthus growing in the canopy of surronding forests. The first
time I noticed them I had to take a closer look to confirm that this
ordinarily poor form species could actually grow as forest tree. This
was before i was compelled to measure but the trees ranged from 24 -30
inch dbh with heights of 60-80 feet but what attracted my attention
was clear,straight butt logs of 24-32 feet. Later I saw one of the
patches get sawed on a portable mill. The lumber was an off white and
apparently sap stained readily in hot weather. The largest CBH I have
measured here in Parkersburg, WV is 122" with maybe one straight 8'
straight section.
TS

---
== 6 of 6 ==
Date: Sun, Mar 30 2008 7:21 pm
From: James Parton

TS,

WoW, I have never seen Ailanthus this big. Impressive!

JP
---
==============================================================================
TOPIC: Ailanthus? what is the biggest you've found?
http://groups.google.com/group/entstrees/browse_thread/thread/14f6a056984e3d42?hl=en
==============================================================================

== 1 of 2 ==
Date: Mon, Mar 31 2008 7:14 am
From: pabigtrees


ENTS

I wonder what their size is in Asia?

I have found that Pathfinder 2 works very well when chemically
girdling them. It also leaves habitat oppurtunity for about three
years before they snap off and fall. They don't seem to resprout from
the trunk or the roots. Works well on Norway maple too.

The holes are about the size of what I have been told are powder post
beetles. you are probably right.

I know Larry Kuhns, retired now from Penn State, worked on quick kill
solutions for this species.

We have a state champion in Pa that is bigger than the one I listed,
but not as tall.

Scott

---
== 2 of 2 ==
Date: Mon, Mar 31 2008 7:22 am
From: Kirk Johnson


I used Garlon4 on ailanthus trees in Rock Creek Park in Washington, D.C.
Covered the trunk from the surface of the ground up to about 12 inches above
ground level. Worked fast, as I recall it killed them dead as a doornail
within about a week. Then I cut them down so they wouldn't become brittle
safety hazards to park visitors. Instant course woody debris!

Kirk Johnson

---
==============================================================================
TOPIC: Speaking of Ailanthus...
http://groups.google.com/group/entstrees/browse_thread/thread/a0c65be886124b5c?hl=en
==============================================================================

== 1 of 2 ==
Date: Fri, Apr 11 2008 2:52 pm
From: "Will Blozan"

James, ENTS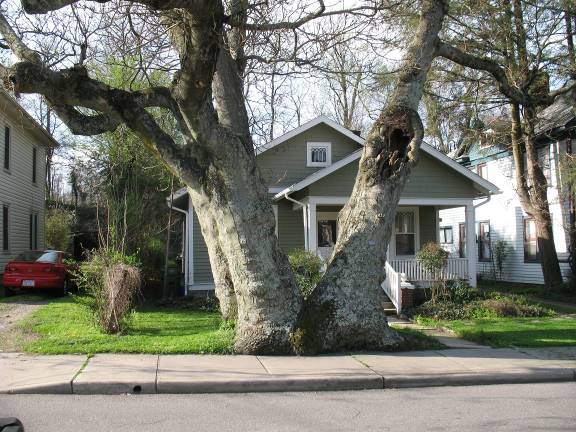 Have you seen this awesome group of Ailanthus on Arlington Street in
Asheville, NC? I despise the ecological havoc the species is presenting here
in the US but I think they are nice looking trees. I think Jess has measured
one close to 120'.

Will

---
== 2 of 2 ==
Date: Fri, Apr 11 2008 7:41 pm
From: James Parton

Will,

Damn!, these are the most awesome Ailanthus I have seen, by far. I am
trying to remember where Arlington Street is. I keep thinking West
Asheville. Do these qualify for any kind of record?

James P.

---
==============================================================================
TOPIC: Speaking of Ailanthus...
http://groups.google.com/group/entstrees/browse_thread/thread/a0c65be886124b5c?hl=en
==============================================================================

== 1 of 1 ==
Date: Sat, Apr 12 2008 6:30 am
From: "Will Blozan"


James,

From I-240 west take Charlotte Street exit, first right is Arlington. It is
an Asheville "Treasure Tree". Further down Charlotte Street is "The Manor"
with several state record trees (some have been dethroned by trees not yet
nominated). These include European white fir, green ash, some kind of Tilia,
and a nice row of swamp white oak, a Camperdown elm and ~120' sweetgum. One
of the tallest moss cypress I have ever seen grew near the Manor on Cherokee
but someone topped it a few years ago.

Will

---