Bruce Kershner Memoriam
Thomas Diggins
Feb 19, 2007 08:00 PST

Friends and colleagues,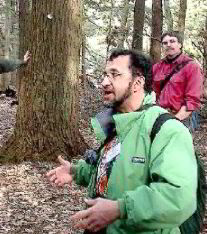 I received some very sad news from Buffalo this weekend. Bruce
Kershner, passionate friend of Eastern Old Growth, lost his battle with
esophageal cancer at the age of 56. He passed away quietly Friday
evening in hospice care, surrounded by his loving family. His memorial
was held this morning at Temple Beth-Am, in Amherst, New York. Words
are difficult to come by at this time. The Buffalo News ran a fitting
tribute to Bruce on Sunday, detailing some of his achievements and
honors, including his pivotal role in the recently announced State of
New York conservation of his beloved Zoar Valley. Still, any list of
tangible "things" just doesn't convey the inspiration that Bruce was to
so many of us. Bruce's life in years was painfully short, and it seems
terribly unfair that such an evolved soul was given so little time on
earth. Bruce's life instead should be measured by the many people he
touched. In fact, through his work he has touched, and will continue to
touch, many thousand lovers of nature whom he had never even met. We
could be satisfied and fulfilled with much less, but Bruce never would
have been. My prayer is that th pain of Bruce's passing will be just a
momentary fraction of the joys he has brought to so many. He will be so
missed.

Tom Diggins
RE: Very sad news from Buffalo
James Smith
Feb 19, 2007 08:30 PST

Sorry to hear that. It amazes me that there are a few folk out there who
have the energy and knowledge to enable them to exact a few drops of
compassion from the monstrous machine that runs this nation.
Re: Very sad news from Buffalo
dbhg-@comcast.net
Feb 19, 2007 16:41 PST

ENTS,

Bruce Kershner was a magnificent earth warrior. His record of accomplishments is long and distinguished. The environment has lost an irreplaceable champion. Bruce was also a caring, committed human being. He was deeply spiritual. But most important to me, Bruce was my dear, long time friend. We coauthored the Sierra Club Guide to Ancient Forests of the Northeast and I readily acknowledge him as the more important of the two of us in completing the guide. His energy and spirit were simply indomitable. He never quit. That is what I will remember most about him.

Some weeks ago, Bruce asked me if I would select a tree for him in Mohawk Trail State Forest. Bruce said that choosing a tree for him was extremely important to him. So, Monica, John Knuerr, and I were deeply honored to do so and we held the first of several planned ceremonies for him at his tree. In spring we will hold a second ceremony (some time in March) and a third in October, when we dedicate the ENTS Rendezvous to him. We will also name a tree for Bruce in Cook Forest State Park in April. Bruce understood that we would be doing that and was very happy. For a few brief moments when we talked about his trees, he could forget his pain.

Bruce has a loving family and many friends who now need time to grieve. For this is the grieving time. For me, the bond he and I shared can best be honored for the present in silent tribute. The time will come when I will share my experiences with Bruce as I'm sure many others will want to do.

Bob

A tribute to Bruce Kershner
Dale Luthringer
Mar 22, 2007 02:35 PST

Hi Folks,

The following is a timeless tribute to Bruce that was put together by
another one of my deer friends, Bill Sweeney. Bill is the environmental
education specialist supervisor at Jacobsburg Environmental Center in
eastern PA. He has a keen eye for identifying old growth forests &
other unique natural areas. He's been all over the U.S. in search of
and exploring many of the ancient forests that many of us have come to
love, and many that only a few of us know about.

Bill & I spent many a day with Bruce over the last few years
investigating special areas for future documentation. Bill was one of
the few folks who were privileged to be in frequent conversation with
Bruce in his last days.

If words could demonstrate the love that some of us had for this man,
then I think Bill comes the closest to expressing it. Bruce was a dear
friend of mine. I have been at a total loss for words at how to express
my feelings publicly on this for over a month now.

I will greatly miss my walks in the woods with Bruce. His energy for
protecting special areas knew no bounds. His enthusiasm for old growth
was infectious. Bruce was one of the instrumental folks who helped to
seal my appreciation for special areas like Cook Forest, and was the
catalyst in my efforts to help identify and protect new ones.

As you read through Bill's tribute, I feel many of us will be heralding
his thoughts. I know a number of times as I was reading it, I kept
thinking to myself, "that's so much like Bruce!". I am missing my
Niagara River Gorge companion terribly, but it is nothing compared to
the loss now being endured within his family.

His precious wife Helene has been battling breast cancer during all of
this as well. Please keep Helene and their children in your prayers as
they go through this terrible grieving process, and also for Helene's
healing from this deadly disease.


Bill's tribute follows:


"'Lost, But Not Forgotten'

Thank You Old Soul, Dear Friend

We had talked a lot in January. Bruce was very tired and he explained
to me that I was one of a select group of people that he would still
take phone calls from because he could count on those friends on "his
short list " to engage him in uplifting conversation, and more than
anything Bruce wanted to feel positive and uplifted during this
difficult time. He knew his time on this earth was short, and wanted to
hear about nature, recent old growth findings, Ivorybilled woodpeckers,
past explorations, and future rendezvous that both of us new deep down
inside would probably never happen. The desire to laugh and be together
was strong, but circumstances and wild western New York winters
prevented another reunion. Bruce and Helene were struggling enough with
their own health issues, and the last thing Bruce wanted was to endanger
a friend. His own local journeys around Buffalo had been dangerous
enough, so we would try, god willing, to get together again in the
spring. The winter of 2007 had not been kind to Bruce and Helene, and
the last winter storm had left a whole in their roof and a chill in
their bones.

About a year ago we both were soaking up the sun in Florida, and I had
hopes of showing Bruce a few old growth sites of exceptional integrity,
but his love for Helene outweighed his strong desire to explore new old
growth sites with a friend, and he spent his time in Florida relaxing
with Helene in places where Helene could feel comfortable. Bruce
reminded me that this was Helene's vacation too, and I knew it was wrong
to push hard for outings with me to remote sites that would separate he
and his wife. My wife also struggles with trying to follow me into
sometimes dangerous, often wild places, and this was not the trip to ask
Bruce to choose between these places and Helene. We had gotten together
quite a bit the last few years, both in western New York, and Eastern
Pennsylvania, and I had every reason to believe that we would spend even
more time together in 2007.

Bruce reveled in the opportunity to show me and others Zoar Valley, and
local old growth sites in Western NY, Niagara Falls NY and Niagara Falls
Canada. My wife and I skipped rocks with Bruce across the placid waters
of lake Ontario two summers ago, and Bruce joked that this was the one
athletic feat he excelled in. The truth is Bruce had a lot of athletic
talent, and there were plenty of times we challenged our bodies with
long hikes over rough terrain and steep slopes! Bruce certainly had a
special talent for skipping rocks, but it was his extreme love of
ancient forests that eventually made Bruce a soul mate, and someone who
I would have no trouble telling that I loved him, when he explained to
me that his cancer had spread to his bones. It was then I realized he
probably would not beat this cancer, a cancer he had told me about only
7 months earlier at our dinning room table.

I will always remember this small man with the heart and soul of a
giant. I will never forget his smile, genuine, excited and a bit
mischievous. Bruce always marveled at hollow trees, and loved the
thought of leprechauns, pixies, hobbits and various other species of
little people happily residing in them. I can not even dismiss the
possibility, how ever remote, that Bruce may have dwelled in these trees
in a distant time, a long gone life. It certainly would help explain
his intense interest in and passion for spending time with ancient
trees, big gnarly burls, twisted crowns, and huge hollow trunks! There
was wildness in that smile and in his eyes when we shared stories about
exploring, and especially when we shared life exploring.

Oh how Bruce loved to explore. We once discovered in conversation that
Bruce used to climb up on the same giant boulder that I have done on
more than several occasions to feel the splash of the Niagara River and
feel that giant boulder shake ever so slightly as the mighty Niagara
rushed passed by it through the Niagara gorge. On a more recent
exploration to California Bruce was blessed with a Mountain Lion
sighting. He was still beside himself with excitement as he provided a
detailed description of this magical encounter.

I believe I will always hear these words in my head when I think of
Bruce and our outings. "Oh my God", then a little louder Oh My God! I
knew I had found a good site when I heard Bruce rant and rave, "this is
fantastic", "this is unbelievable" and there was no one on this planet
that I knew of that enjoyed these special places more than Bruce.

I cannot help feel an utter sense of sadness knowing I will never in
this life walk among ancient trees with Bruce again, but I will always
remember how lucky I was to share my love of ancient forests with a
friend equally connected to Gods Green Gardens. I will always be
grateful for our time together.

Bruce once told me that I like he had a special talent for finding
ancient forests because they spoke to me, as they did he. We said
things like this to each other to lift each other up and because we knew
them to be true. Bruce knew how to be a friend, and I will remember his
good will and how deeply he loved his friend's ands family. Bruce had a
large extended family of those like me who shared no direct bloodline
with Bruce, but could hear, just as Bruce heard so clearly the voice of
God in these unique ancient forests that have always been embraced by
the hand of god, perhaps because they have never been altered and
manipulated by the hand of man.

During our last conversation Bruce made me promise him that I would
share my knowledge of ancient forests with others in the old growth
forest community. Documenting these sites has not been strength of
mine, and I have seen a fair number of sites containing ancient trees
and pristine ecosystems cut down over the last 25 years. Bruce fought
harder for the protection of ancient North Eastern forests more than
anybody I have ever known, and all those who love ancient forest owe
Bruce a debt of gratitude for his never ending efforts to encourage
others to visit and enjoy them, while he worked tirelessly to save some
of those small and large pockets of forests that had escaped our
collective demands.

I feel a deep sense of relief knowing Bruce's physical body suffers no
more. I will always think of Bruce as I walk among ancient trees, and I
have already felt the presence of his spirit with me while walking in
the bottomlands of South Carolina two weeks ago. This I am also
grateful for."


I have hopes of seeing Bruce again one day. Where there will no longer
be any pain or sorry. Then we can again take up our hikes into even
more incredible forests, more grand than we've ever imagined. Save a
place for me, Bruce. We all love and miss you very much.

Dale

RE: A tribute to Bruce Kershner
Robert Leverett
Mar 22, 2007 06:50 PST

Dale,

Thank you so much for the tribute to Bruce. I have my own stories to
share about Bruce and will so in time, but I think it is his indomitable
spirit that I think of most. While on Earth, Bruce was small in physical
stauture, but a giant in intellect, achievement, and spirit. May he rest
in peace, but I doubt that to be the case. Wherever Bruce is now, I'm
sure he is being a buzzsaw. He is walking through ethereal forests and
sending his thoughts and energy to us. Bruce will always find a way to
make a difference.

Bob

Bruce Kershner
edniz
Mar 24, 2007 05:21 PST

Hello,
I haven't had home email for quite some time so I have been a bit
out of the loop. Fortunately I could access my account from where I work.
I wanted to tell you that I got a message from the Greensprings Natural
Cemetary in Newfield, NY. This is where Bruce was laid to rest. He
maintained his environmental ethic to the end.

Ed Nizalowski
Bruce S. Kershner Heritage Tree Preservation and Protection Act
julie@zoarvalley.org
Jun 12, 2007 16:57 PDT
ENTS,

There is a bill pending in the New York State legislature (Assembly Bill A8145)aimed at protecting old growth on New York's public lands. If passed, the law would be known as the Bruce S. Kershner Heritage Tree Preservation and Protection Act. You can read the text of the bill at http://assembly.state.ny.us/leg/?bn=a8145
There is a companion bill in the Senate (S4637).
There is a related bill also pending, Assembly Bill A1101 (at http://assembly.state.ny.us/leg/?bn=a1101) A version of this old growth forests on public land protection bill has been introduced time and time again in New York but has been repeatedly killed by the Republican controlled Senate.

Calls and letters to New York's legislators would be very helpful, and a nice tribute to Bruce and his forest preservation legacy.

Julie Broyles, Director
Zoar Valley Nature Society
Bruce Kershner in the News
==============================================================================
TOPIC: Bruce Kershner in the news
http://groups.google.com/group/entstrees/browse_thread/thread/35fab26a793ab60d?hl=en
==============================================================================

== 1 of 1 ==
Date: Thurs, Apr 24 2008 8:22 am
From: EDWARD NIZALOWSKI


This was sent to me from a friend of mine. It came from the Buffalo News
Ed Nizalowski
Newark Valley, NY
Law protecting old-growth forest needs public support By Larry Beahan
Updated: 04/23/08 6:43 AM



adsonar_placementId=1304969;adsonar_pid=808767;adsonar_ps=-1;adsonar_zw=280;adsonar_zh=200;adsonar_jv='ads.adsonar.com';
-->
Tree lovers have an unusual opportunity. Retiring State Sen. Mary Lou Rath, R-Williamsville, has introduced a bill to establish the Bruce S. Kershner Heritage Tree Preservation and Protection Act. It will protect all old-growth forests on public land and give tax relief to private owners who agree to conservation easements.
A similar bill has passed in the Assembly every year for eons but failed in the Senate for lack of a companion bill. This time, the bill originates in the Senate with 10 co-sponsoring senators including Cattaraugus County lumber district's Cathy Young.
Assemblyman Sam Hoyt, D-Buffalo, has an identical bill in his chamber. A rising awareness of the importance of standing timber to global warming and to human well-being -- and the tax breaks -- give these bills a chance.
Western New Yorkers love their trees. Witness the hullabaloo over cutting supposedly dangerous trees on Audubon, Burroughs and Burbank drives in Snyder. (It is hard to figure how the highway commissioner could have picked those beautiful streets that are named after naturalists to cut just before Earth Day.)
Witness the wrath of the County Legislature over logging the Erie County Forest, and the outpouring of dissent when elements of the State Parks Department proposed a timber harvest of Allegany State Park.
At one time, a squirrel could hop from tree to tree all the way from Maine to the Mississippi. We cut down most of that forest but, tucked in out-of-the-way places down in ravines, in preserves and clinging to cliff sides, some of that primordial forest still stands.
I've hiked through the towering 350- year-old hemlocks in Allegany State Park's Big Basin, gasped at the giant tulip trees of Zoar Valley, searched for the 300-year-old white cedars of the Niagara Gorge and seen 200-year-old Erie County Forest maples sacrificed.
Being among those giants is inspiring, renewing -- you need a poet to find the right words, but being there feels terrific.
Rath named her bill in honor of a good friend of mine, an unparalleled forest advocate, Bruce Kershner. He and his Western New York Old Growth Survey Team located more than 300 old-growth forest lots.
If you, too, want to explore those woods, find a copy of "The Sierra Club Guide to the Ancient Forests of the North East" that Kershner completed just before we lost him a year ago.
But to make sure the trees are still there, contact the State Legislature. Tell them how important those forests are.
There is a decent chance for the Heritage Tree bill, but 300 bills are pending in the Senate Environment and Conservation Committee. Thousands are awaiting action.
This bill will not become law unless the Legislature hears how much we want to save those markers of our heritage, old-growth trees.
Larry Beahan is conservation chairman of the Sierra Club Niagara Group.