Kelsey Tract old growth hemlocks
Will Blozan
May 04, 2004 18:13 PDT

ENTS,

Today, Appalachian Arborists climbed seven of some of the most fantastic
ancient hemlocks I have ever seen on the Kelsey old-growth tract near
Highlands, NC. With three climbers we released 14,000 predator beetles to
combat the hemlock woolly adelgid which, as is to be expected these days,
heavy in the area.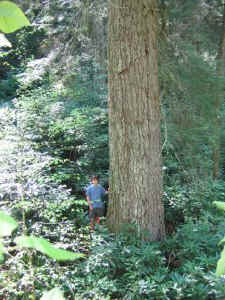 The base of the giant hemlock in the Kelsey Tract near Highlands, NC. Photo by Will Blozan


Aside from the gorgeous weather and excellent trees to climb, Rusty Rhea
(USFS) and I spotted some huge hemlocks that MUST be revisited. Much to my
frustration, I did not bring my laser or clinometer! However, Rusty pointed
out a tree that I had not seen yet downstream from one of the hemlocks I was
climbing. He yelled up, "I have a hemlock to nominate for the NC State
Champion Tree List!". Thinking to myself, sure, whatever, I proceeded down
the tree to see "his" tree, while spouting off the numbers he would need to
beat. Well, he beat 'em!

The tree, easily viewed from above, has a massive trunk that forks into four
huge reiterations. The crown spread may be a record for the species, and may
reach close to 80'. Although I did not have my measuring gear I estimated
the height to be close to 160'. We did have a diameter tape and the girth is
16'4". The trunk is huge and has gradual taper up to about 90' where it
splits into the huge tops. I suspect a displacement volume of 1600 ft3 or
more. It will certainly rival the great tree in Upper Caldwell Fork that
Michael Davie and I found a few years ago. Both of these trees need to be
climbed and measured before the HWA kills them should the beetles not work.

But, this was not the tallest tree. There is one that I did not get a girth
on but looked to be close to 14' cbh. However, the girth is not it's most
impressive feature. I may eat my words here but this tree may be VERY close
to 170'. I hope to explore this grove with Jess Riddle this weekend if he is
up for it. Rusty thinks that there is a taller tree downstream...

WHAT A DAY TO NOT HAVE MY GEAR!!!

Will Blozan
President, Eastern Native Tree Society
ISA Certified Arborist
Re: Kelsey Tract old growth hemlocks
Jess Riddle
May 04, 2004 18:33 PDT

WOW! That's absolutely amazing. None of the descriptions I've read about
the Kelsey Tract or other uncut stands on the Highlands Plateau hint at
that kind of size. The 14' cbh ancient hemlocks I've seen in the area
have all been short. Were there any big carolinas in the nearby? I can't
wait to check the area out. Which day do you want to go?

Jess
RE: Kelsey Tract old growth hemlocks
Robert Leverett
May 05, 2004 05:29 PDT

Will:

Totally, utterly awesome. As the Valley Girls might have once said,
you have barfed us back to the stone age. Yes, my friend, you lay low
for periods of time, when you are working hard, but then you burst onto
the scene with reckless abandon with some absolutely incredible
discovery. If you are right, you will have confirmed the largest
hemlock, by volume, of which we have records. The tree needs to have an
old fashion yard by yard circumference scan! We may never get another
chance.

With luck, I plan to see you in late July. If you haven't climbed and
measured it by then, it would be a great experience to record each
measurement as you took it, model the tree while were're down there, and
report the results. Even model its foot print like BVP does, albeit by
somewhat less efficient techniques.

Is this tree deserving of the name the "Catawba Giant"?

BTW, exactly where is the Kelsey tract?

Bob

RE: Kelsey Tract old growth hemlocks
Will Blozan
May 05, 2004 13:58 PDT

Yes, big Carolinas upslope mixed with white pine. I also saw a large, tall
pine further downstream from the top of one of the hemlocks. I can't believe
they were so tall at such a high elevation. I'll email you about the
weekend.

RE: Kelsey Tract old growth hemlocks
Will Blozan
May 05, 2004 14:08 PDT

Rusty Rhea wants to name it Cheoah (sp?), like the lake of the same name. We
want to find out the meaning first, though.

The Kelsey tract is wedged between private lands and a Nature Conservancy
holding between Cashiers, NC and Highlands, NC. It is generally restricted
entry and has no formal trail or signage into it.

I have some more fantastic finds over the last few weeks that I will post
soon. Let's just say for now, "BAXTER RULES!".

Will

Re: Kelsey Tract old growth hemlocks
Michael Davie
May 05, 2004 15:39 PDT

I think cheoah is Cherokee for otter.
It sounds like an awesome spot, you need to describe it some more. Why are
these trees so tall there, compared to others around, what's the elevation
and what's the topography like, is it all rhodo around? Is it near Rich
Mountain? It sounds fantastic. How large an area? How does that hemlock
compare visually to the Caldwell Fork tree? What kind of ages are there?
Come on, don't be coy.
Mike

RE: Kelsey Tract old growth hemlocks
Will Blozan
May 05, 2004 18:32 PDT

Mike,

The site is moderately rhodo-choked and has steep sides with a gradual slope
with respect to the stream, which was a trickle. The trees are very old,
400+ and very massive. Reminds me of some of the best of Cataloochee. Lots
of reiterations and double+ leaders. Bark is very thick and crowns have a
typically rugged form and massive limbs. Some of the huge trees have rounded
single-lead crowns that have stopped vertical growth. The tallest trees I
saw were still growing quite vigorously based canopy observations of last
year's growth.

Beyond that, I will present a full description when I have the time to
actually focus on the site. Climbing three huge trees after dragging myself
and gear and beetles thru rhodo and over slick, steep, leucothoe covered
slopes did not allow me to fully interpret the site or even begin to explore
it. You'll have to wait until after this weekend for a detailed response to
your excellent questions and a thorough description.

Will


Long time, no posts...
Will Blozan
May 16, 2004 10:21 PDT

Hey folks,

I want to get some trip reports out as I know many of you are awaiting the
news. I have not been out much lately and have been super busy with work and
family. Fortunately, some of my best excursions lately have been work
related, namely the Joyce Kilmer and Kelsey Tract old-growth hemlock climbs
and last week a trip to Mt. LeConte in the Smokies to collect Fraser fir
cuttings.

5/9/04 Kelsey Tract, Highlands, NC USFS.

As mentioned in an earlier email, this hemlock forest was incredible, and in
need of a revisit with measuring tools. The understory was so crazy dense
that Jess Riddle and I really did not measure many trees. We did measure the
ones I had mentioned in the previous email, as well as a few others. By no
means is the tract fully surveyed, but the access is so tough that it may
remain that way. We feel we spotted the majority of the significant trees on
this small site. Due to it's high elevation of 3800'+, tree heights of
species other than hemlock were quite short. Some white pines down lower may
be tall, but we suspect nothing record breaking. The hemlocks were very
impressive, especially for the elevation (the tallest tree was growing at
4000 feet!). Anyway, here are the numbers:

Black birch
9'11" X 96.5' That girth is not a typo!
Hemlock
14'2" X 161' Not as close to 170' as I thought :( This tree has a "spunky"
top so it may continue up!
15'2" X 149' We nearly walked by this one!
16'2" X 157' X 45' Midslope girth 2" less than higher up where I measured it
last time. National Co-Champion?

This tree needs to be climbed for volume as I know it will be first or
second of the three giants identified as potential National Champions. It
will certainly be over 1600 ft3. Let's hope the Pt beetles do their job!

The hike out of the "nast" up the ridge was sooooooo cool! We traversed a
complex rock/moss/dwarf conifer forest that was incredibly magical and blew
the "Gnarl Factor Meter" up! The ancient, contorted and dwarf Table-mountain
pines and Carolina hemlocks were astounding! They reminded me of the "elfin"
pitch pine forests of Wachusett Mountain that Bob Leverett showed me. All
the Carolina hemlocks were heavily "flagged" from wind and weather. I have
many, many high resolution photos of this place including some interesting
composite shots. The snags of the pines exhibited intense twisted grain- one
limb of a Table-mountain pine had no less than 11 revolutions over ~12 feet.
These ancient pines were less than 20' tall, and the Carolina hemlocks
reached about 30' tall. Some studies done in the area indicate Carolina
hemlock reaching over 300 years old. Again, I hope the Pt beetles do their
job!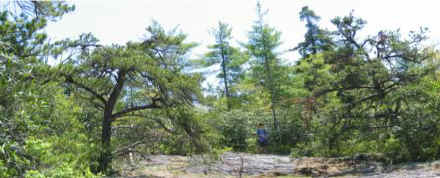 Composite of some ancient Table-Mountain pines and Carolina hemlock on the Kelsey Tract near Highlands, NC. Jess Riddle is there for scale.
Photo by Will Blozan
That's all for now. The tree hunting season has basically closed in with the
spring canopy. I may try to do some volume climbs before it gets too hot and
buggy. I will be in northern Ohio the end of next week so I hope to at least
confirm the giant cottonwoods I saw near Detroit, Michigan while I am there.

I'm sure I will let you all know...eventually...;)


Will Blozan
President, Eastern Native Tree Society
ISA Certified Arborist