ENTS,

By invitation from Ron Busch, an Arborist at the Biltmore Estate, Ed Coyle
and I accompanied him for a tree measuring day to begin to document the fine
trees of the estate. A graduate student at the University of NC has also
requested information about the champion trees of the estate, and Ron asked
that ENTS assist in the relocation and re-measurement of the specimens. We
(I) also had the intention of returning to some "juicy" spots of tall trees
that I had seen on previous visits. We were not the slightest bit let down,
and due to many distractions from big and tall trees at every glance, we
only measured a few of the listed NC record trees. Oh well, another day.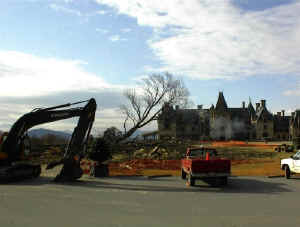 An interesting pic of a spirit leaving a tree. Notice the apparition escaping
from the tulip poplar as they fell the last one at the Biltmore. pic from Bill
Hascher, managing arborist of the Biltmore in NC. -Scott Wade

In my eyes, the estate is quickly becoming one of the finest eastern tall
tree preserves and needs to be listed on the ENTS website as such. Just one
day has yielded several new state champions and a few potential
World/National record heights. Chock full of planted exotics, it is a
wonderland of old, introduced specimens, some of which are quite impressive
in height and girth. One of the feature trees of the estate is an original
dawn redwood collected after their discovery in the 1950's. This tree,
though likely less than 50 years old, has reached 11'10" in girth and 118.8'
tall with no side crown competition.

The tree finds were impressive and inspiring, but we also located some
eastern hemlocks heavily infested with hemlock woolly adelgid- the first
known occurrence of this pest on the estate. The estate has literally
thousands of large eastern and Carolina hemlocks, many of which were planted
in the late 1800's. Treating so many trees is likely out of the realm of
financial feasibility, and the loss of these impressive specimens will
vastly change the landscape of the estate. The estate likely contains the
greatest concentration of Carolina hemlocks over 100' on Earth. Linville
Gorge may challenge the estate for this honor, but most of them are dead
from HWA, or will be within 2 years or so. Biltmore Estate has the
opportunity to protect these tall trees, and preserve for the people of the
Earth the tallest known of the species ever accurately recorded. I sincerely
hope that they do... and soon...

Although we measured dozens of trees, I will only list the highlights from
today, and the regional significant of them.

Eastern white pine
8'10" x 150.74'
8'10" x 154.09' Tallest in county

Eastern hemlock
6'3" x 141.25' Tallest in county, planted tree ~100 years old. In a pure
grove of dozens over 130'

Carolina hemlock
5'6" x 103.14'
7'2" x 103.4'
6'7" x 104.7'
6'3" x 113.95' New World height record?

Dawn redwood
11'10"x 118.81' Tallest in Nation?

European larch (ID pending)
6'6" x 131.53' Tallest introduced tree in East?

Bald cypress
~12' x 103.63' Tallest in county

Norway spruce
7'2" x 126.76' Tallest in Nation?

Shortleaf pine
8'3" x 113.52' Tallest in county

Pitch pine
8' x 118.7' Tallest in county

Red pine
3'9" x 87.1' New NC State Champion

White elm (ID pending)
8'3" x 118.56'
10' x 125.14' Tallest in Nation?

Winged elm
13'6" x 99.07' Near State and National record size. 102' longest spread!

American basswood
9'7" x 121.14' NC record height

Burr oak
10'1" x 115.66' NC record height

Northern red oak
10'8" x 126.37' Tallest in county

Willow oak
7'6" x 107.76' Largest was 14'4" girth x 95'

Scarlet oak
6'6" x 131.02'
8'3" x 131.58'
8'1" x 132.22' New record height? Jess, Mike?

I have UTM coordinates for all trees measured today. Look for a posting soon
for my online site containing the "Buncombe County Big Tree Register". "A la
Van Pelt" I will list the largest and tallest of as many species I can
measure, and welcome the inputs of all ENTS members and measurers. I am sure
Michael Davie and Ed Coyle will pump many new records into the register, and
it will be tightly linked to the NC Big Tree program and other regional
preservation organizations.

The estate has many, many more exotic conifers that are very impressive, and
thousands of acres of natural, managed and introduced "forests" (Norway
spruce) left to explore. Ron plans to get set up with laser/clinometer and
begin measuring on the estate whenever he can. The place is awesome!

Will Blozan
President, Eastern Native Tree Society
ISA Certified Arborist