---------- Forwarded message ----------
From: Jess Riddle
Date: Nov 30, 2005 10:21 PM
Subject: Rocky Face Mountain, GRSMNP, TN

A few weeks ago, Michael Davie and I explored a cove on the north side
of Rocky Face Mountain and walked along Cosby Creek in the
northeastern part of the Smokies. Rocky Face Mountain juts west off
of the main ridgeline of the Smokies. Tributaries of Toms Creek, and
one tributary of Cosby Creek, drain the steep north side of the
mountain/ridge while the main stem of Cosby Creek flows at the other
foot of the mountain. West of the ridge, extensive flats along both
creeks supported settlers until the formation of the park. Dense
stands of tuliptrees, often around 120' tall, now populate those old
fields.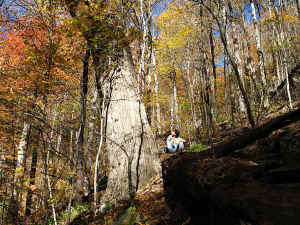 The large northern red oak above Cosby Creek - photo by Michael Davie

The narrow cove we went up was too steep and rocky for productive
agriculture. However, adjacent farmers likely removed white ash and
tuliptree from the cove leaving sugar maple and yellow buckeye to
dominate. Slender silverbells also occupy much of the canopy, and
declining yellowwood remain scattered in midstory positions. Hemlocks
entered the mix along the edge of the cove and at the top where yellow
birch, black cherry, and chestnut debris occurred. An 11'3" x 130.4'
yellow buckeye appeared to slightly surpass the sugar maples as the
tallest tree in the cove. Sugar maples reached comparable
circumferences with 11'5" x 123.4' and 10'3" x 128.4' trees being
among the largest, but a stout 14'6" hemlock had the largest trunk of
any tree in the cove. A yellowwood with a 9'2" cbh and 60.7' height
set a new park diameter record.

The dryness of the south side of the ridge stood in stark contrast to
the north side. The slope plunged down at approximately 40 degrees,
but had only small rock outcrops. Pines, table mountain near the top
and pitch lower down, mixed with chestnut oak and red maple to form
most of the canopy over a continuous mountain laurel understory.
During the last series of droughts, pine beetles killed many of the
most of the mature pines; several areas of young, live pines remained.
Although the slope was never cut, no species reached great age.
These harsh conditions made the presence of one fertile cove quite
surprising. The rocky, southwest-facing cove harbored mature sugar
maple, yellow buckeye, bitternut hickory, and basswood. A small clump
of northern red oaks on the edge of the area included an impressive
17'2" x 110.6' individual.

While the forest was not a pure tuliptree stand, the even young age of
the trees and rock wall gave clear evidence that settlement had
occurred at least briefly on the Cosby Creek at around 3400'
elevation. The road to that farm provided means for removing the most
valuable trees from the creek-side down to the farming community
around 2600'. A swath of rich cove forest continuously lined the
creek within a matrix of hemlock dominated forest. Impressive remnant
trees left along the creek included a 14'10" yellow buckeye, a 12'5"
sugar maple, and a 14'6.5" x 135.9' hemlock. Roughly 14' cbh
tuliptrees still lurked around the edges of the rich cove forest, and
hinted that much larger trees were removed.

Farther down Cosby Creek in an area that was cleared but not farmed
grows a 4'8" x 115.5' silverbell. The other tree measured during the
day was a 1'2" x 39.7' winged sumac in the NPS Foothills Parkway East
unit.

Jess Riddle & Michael Davie