British Columbia
---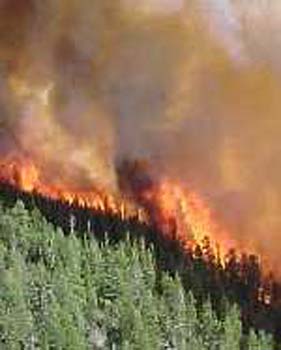 Cool Creek Forest Fire, BC - Ministry of Forests

British Columbia
On March 14, 2010 the Eastern Native Tree Society and Western Native Tree Society switched from discussion lists on Google Groups to a new discussion list in a Bulletin Board format at:
http://www.ents-bbs.org/index.php
Posts made since the inception of the BBS on March 14, 2010 will be sorted and archived on the BBS. Click on the link to go to the equivalent section on the new BBS. This website will continue to serve as a front end for the ENTS and WNTS groups. It will continue to serve as a repository of older posts, and will serve as the host site for special projects and features that are not well suited for a BBS format. Please visit the BBS for the latest information and trip reports.
Discussions

British Columbia, Ministry of Forests http://www.gov.bc.ca/bvprd/bc/channel.do?action=ministry&channelID =-8385&navId=NAV_ID_province

Big Trees of British Columbia http://www.for.gov.bc.ca/hre/bigtrees/
After several years without a home, the British Columbia Register of Big Trees is now housed at the BC Conservation Data Centre in Victoria. Modeled after the American Forestry Associationís Social Register of Big Trees, the registry records the biggest individuals for each of BCís native tree species. http://www.for.gov.bc.ca/hre/bigtrees/docs/BigTreeRegistry.pdf


British Columbia Outdoor Guide http://www.bcadventure.com/adventure/wilderness/

Sierra Club of British Columbia http://www.sierraclub.ca/bc/

Arbutus Grove Provincial Park http://wlapwww.gov.bc.ca/bcparks/explore/parkpgs/arbutus.htm also a planning statement at: http://wlapwww.gov.bc.ca/bcparks/planning/mgmtplns/arbutus/arbutus_ps.pdf 203 kb

Big Trees of Saltspring Island BC http://www.rdcraig.com/bigtrees/ This site contains descriptions and photos of some of the largest trees on Salt Spring Island. For each tree, circumferences and diameters are given, along with their general location, and date of measurement. Diameters were calculated from the circumferences. Heights of the trees are not known. For photos that don't include a person, there is a 5 foot length of black pipe at the bottom as a reference to the size of the tree.