First Annual Eastern Native Tree Society Concert
October 15, 2005


Monica Jakuc introducing the concert event
After dinner, Saturday night Oct 15, 2005
we headed back to Monica's for the first ENTS concert. Monica Jakuc
is the Elsie Erwin Sweeney professor of music at Smith College in
Northampton, MA. Monica has a large climate controlled music room in her
home with a vaulted ceiling, sound absorption blocks, and two pianos. She
organized the concert around the theme of New England and woodlands.
Monica was featured on piano, Lee Frelich on the violin, and Peter Shea
sang as tenor.


Lee Frelich had played the violin for many years while younger, but stopped
playing 20 years ago. He began practicing again about 6 weeks ago in
preparation for the concert.
Lee Frelich on violin
He said his violin, French in origin dating
from the mid to late 1800's made the trip lying flat on his backseat. For
those of you interested Lee did not set his violin on fire and smash it into
pieces like Jimmy Hendrix or other rock stars. He played three pieces
accompanied by Monica to start off the program. I will post a complete
program on the website. He told me the hardest piece for him to play was
a selection from Vocalise by Rachmaninoff.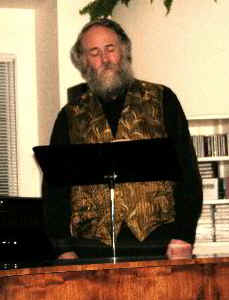 Peter Shea - tenor vocals

Peter Shea performed vocals on a number of selections. One was an
arrangement by Edward MacDowell entitled "The Pine Tree" with text by
Heinrich Heine. Heine is a favorite of Peter's and he told us that he was
the most adapted writer in history. He personally has a collection of over
2,000 arrangements for one or two vocals, and a database of 8,000 plus not
including choral or orchestral arrangements.
Kaiza Fern - composer

Two pieces were written by a young local composer Kaiza Fearn. She grew up
in a house next door.Monica proposed that the Wood Thrush which inspired one
of the compositions may have been some of the same wood thrushes that sang
in the woods between their houses. Kaisa Fearn attended the concert. Not
only were there people from ENTS at the concert, but a number of friends
from the area attended also. The three musicians played to a packed room.
A social mixer was held after the concert.

---
Bob Leverett commented on the concert in a post dated Oct 20, 2005:
Monica Jakuc is the Elsie Erwin Sweeney professor of music at Smith College
in Northampton, MA and she is a very, very fine concert pianist. She organized
this past ENTS concert that featured herself on the piano, Dr. Lee Frelich on the
violin, and Peter Shea tenor.
Monica Jakuc - photo by Ed Frank
In addition to compositions by Norwegian
composer Edvard Grieg, native New Englanders Amy Beech and Edward
McDowell, and others, Monica and Peter teamed up for a couple of
compositions by a young, talented composer by the name of Kaiza Fearn.
Kaeza was present. The event was spectacular. Monica's playing of pieces
celebrating both the wood thrush and hermit thrush was just awesome.
---
First Annual Eastern Native Tree Society Concert Program

In Praise of Nature

Lee Frelich, violin
Peter W. Shea, tenor
Monica Jakuc, piano

Morningside Music Room Saturday October 15, 2005 7:30 pm

Larghetto from "Devil's Trill" Sonata
Guiseppe Tartini
from Vocalise
Sergei Rachmaninoff
Greensleeves
Folksong
In the Willow-Meads of Tasarinan (text by J. R. R. Tolkien)
Donald Swan
Autumn Song, Op. 56 No. 1 (text by H. H. A. Beach)
Mrs. H. H. A. Beach
A Hermit Thrush at Morn, Op. 92 No, 2
Three Songs, Op. 58
Edward MacDowell
Constancy
Sunrise
Merry Maiden Spring
To an Old White Pine, Op. 62 No. 7
Edward Macdowell
To a Wild Rose, Op. 51 No. 1
The Pine Tree (text by Heinrich Heine)
Edvard Grieg
I Saw in Louisianna a Live Oak (text by Walt Whitman)
Kaeza Fearn
Wood Thrushh
Young Birches, Op. 128 No. 2
Mrs. H. H. A. Beach
A Humming-bird, Op. 128 No. 3
The Year's at the Spring (text by Robert Browning)
---